1934 Ford Convertible Street Rod Project


Been here before? The newest stuff is on the last page.


Go to:
Page Two.
Page Three.
Page Four.
Page Five.


This is the car I've wanted since I was a kid. It is a kit made by a company called Street Beasts. Actually it was made by the company that Street Beasts bought out. Classic Motor Carriages or something like that. Anyhow, someone bought it, never started building it, sold it to a guy who never started building it, he put it on Ebay and I got it. Here's some pics that were on Ebay.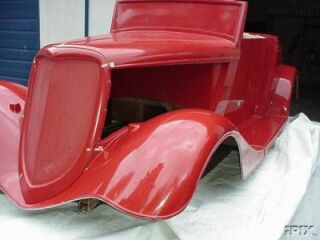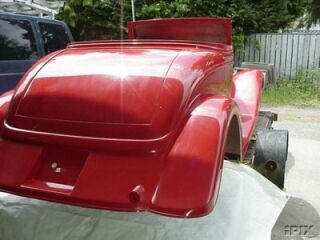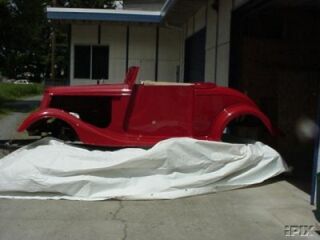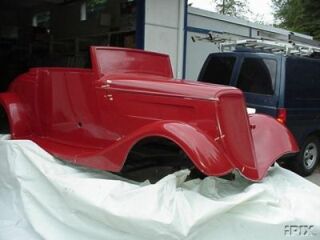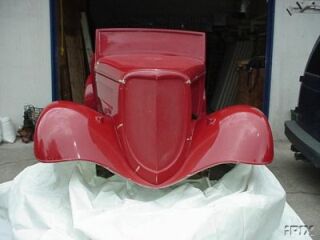 I'm flying to Vancouver to make sure the crating and shipping goes OK. The seller is really being helpful, he arranged for a "border broker" to handle the paperwork to get the car through customs, then to Washington State where it will be transferred to another truck to bring it here.

Well, I got to Vancouver (actually it was near Victoria) just in time to help with the crating up of the car. Here's some pics of the crating process.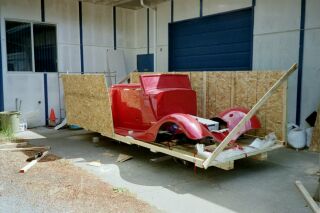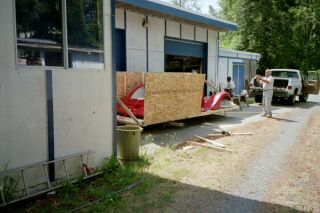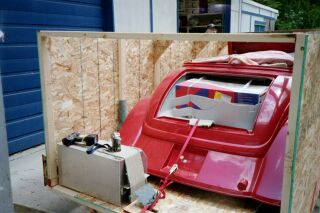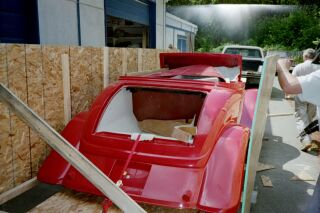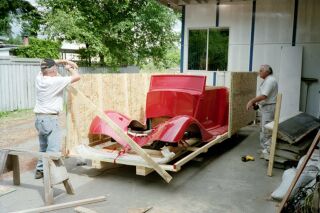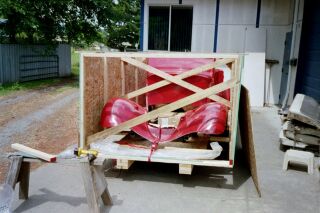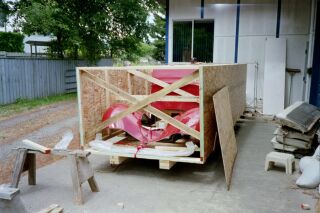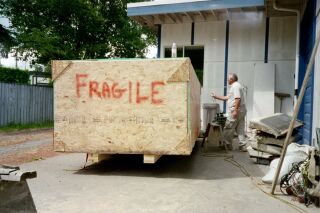 That's Jim (the seller) and his friend Skip. They worked all day and I bought lunch. Pretty good, huh?
The grill shell, doors, boxes full of spare parts, etc. are stacked inside the body, engine compartment and trunk. This took pretty much all day and hopefully it was done solid enough. As this is written, the car hasn't been shipped yet so we'll see.

I took a day to do a little driving up the coast and knock around downtown Victoria. You can see some pics here.

Here's the front suspension from a '78 Mustang and the rear from a '88 Mustang. I'll let it rain on them for a few days to rinse off some of the mud. They will eventually be powdercoated and all nice looking.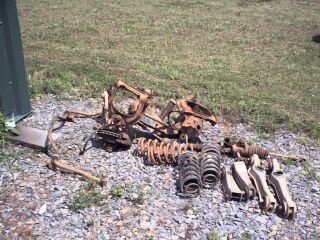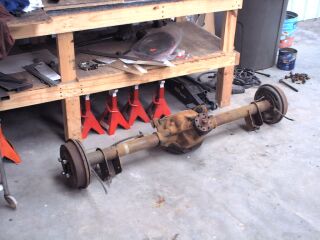 Well, I went to the freight company and was in for a shock. The crate was all lop-sided and had a gaping hole in one end. We had strapped the fuel tank in really good and tight and I was able to reach in the hole and drag the tank out. Needless to say, the manager didn't want his picture taken and wouldn't give me his name.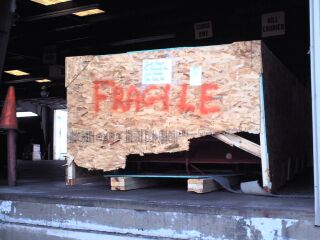 This genius also wanted me to back my trailer up to the loading dock so he could just push the crate off the dock and let it fall the four feet or so onto the trailer. I finally talked him into letting me back my trailer up the ramp into his precious shop and load it with forklifts. In addition to the hole, some of the cross-bracing was broken and two of the 2X6 boards on the skid/main bracing were broken.

Don't ever do this. I mean it, don't ever ship anything you don't want destroyed. Their attitude was, "I don't care, not my job to care, file a claim and try to get some money". The only guy who seemed to care was a fellow named Simon at Security Freight up in Blaine, Washington. He's old school, I guess. Seems to understand that people's freight are their belongings and they are trusting the freight company to at least try not to mangle everything they touch.

Having said all that, I trailered it home and got it unloaded. I didn't take pictures of the unloading process since it really wasn't pretty. I used the cherry picker to lift up one end of the crate, then drove the trailer out from under it enough to put jack stands under the other end. No it wasn't that easy, took about three hours start to finish and it was scary because of the broken boards inside the crate. I wound up with some scuffing on the lower edge of the rear fenders and a crack about two inches long behind the passenger door from the heavy stuff that was packed in the passenger bay shifting around. The crack is right where the heavy metal brace for the door will go, and I'll get it repaired of course, but that heavy metal brace will keep everything OK. That metal brace will be bonded to the body so it will wind up being all one piece.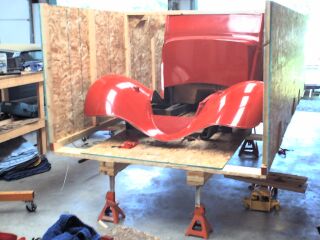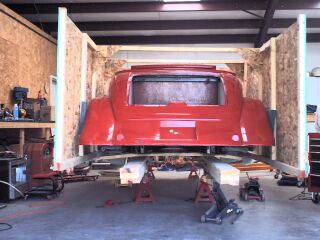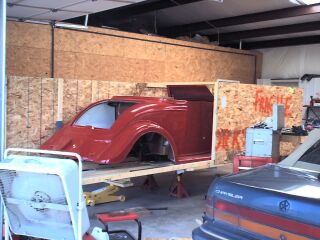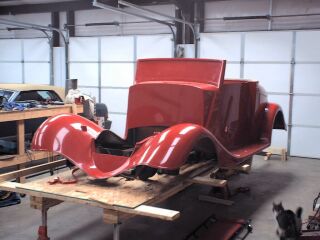 Plus, there's all this stuff! All that was inside the body of the car.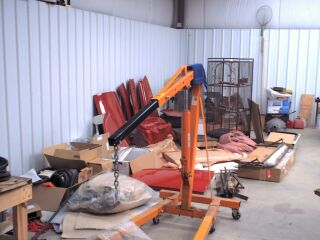 Doors, hood, side panels, grill and grill shell, glass, wiring, seat covers, convertible top, metal bracing of all sorts, gauges, I haven't looked through it all.

Now I have to figure out how to levitate it so I can take out the rest of the wood. And yes, there's a full frame under the car.

Well, that's as low as it's gonna go. I couldn't get the skids out and I was pooped anyway. I didn't take pics as I went because it was just a bunch of jacking up and lowering jackstands a little at a time until I could take them out for the final drop.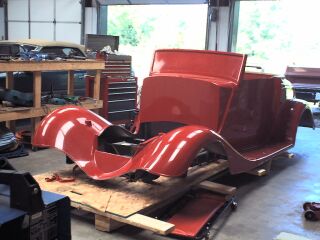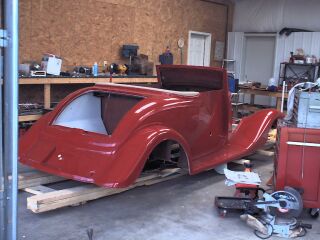 Now I just have to get about four good strong corn-fed boys to lift the body up high enough to clear all the metal bracing on the frame (about 4 feet) and take it over to the space that I opened up for it to sit. Oops, you remember all this stuff?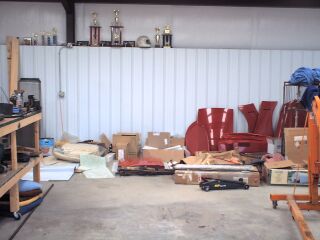 I'll have to move all that again, over to the corner of the shop. I hope.