As part of our garage project, we decided to put in a concrete pad and put metal siding around my old "pole barn". Here's the barn after they poured the pad, and after we moved all our toys back into it.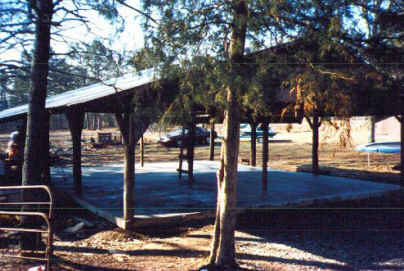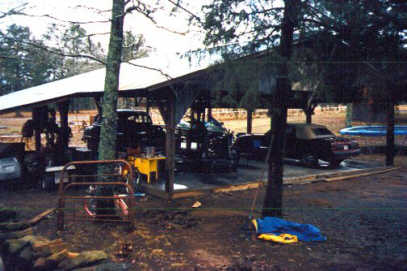 Ran the transmission cooler lines up to their position for hooking into the radiator. Speaking of the radiator, I had to have the bottom hose outlet moved over about three inches so I could get a hose to go to the water pump. Took a hose with a 90 degree bend in it and cut off both ends. Only needed the bend with about three inches on either side of it. Really a bugger to get on, but looks good. I'd rather look good than be good any day.


Had to grind some metal off of the lower A-arms on the front suspension to keep the big GM discs from rubbing. Car rolls a lot easier now. My focus is on getting the car so I can drive it to the shop to have the exhaust system put on. Then on to the front-end shop for an alignment. That's not going to be easy. Most people around here don't have manuals for aligning the front end of a '48 Dodge with Mustang suspension.





Got a simple bracket made for the power steering pump and mounted the tank on the inside of the fender well. Pretty neat installation. Went ahead and bought an A/C compressor so I can get the belts all lined up. Then I'll get some belts, etc. and it and hopefully put the radiator in for the last time.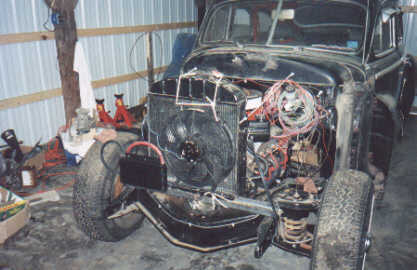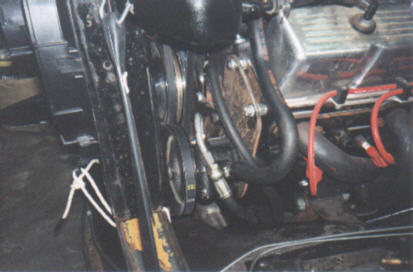 Here's a closeup of the power steering setup. Crowded but nice and neat and it works. I cobbled together a radiator mount and so on to drive it to the shop to get mufflers put on. It's so much easier to work on it with no fenders that I took them off again. Really turned out to be a good day. The car goes straight down the highway at 55MPH with no surprises. Good oil pressure, good temperature and the speedometer even works. I did have some problems with fuel feed that I traced back to 51 years worth of trash in the fuel tank. It had a pinhole leak in the bottom, so I'll put in another tank.





Here's the Dodge back in the shop with some walls up.
Got mufflers put on, pretty nice setup. Simple and does the job.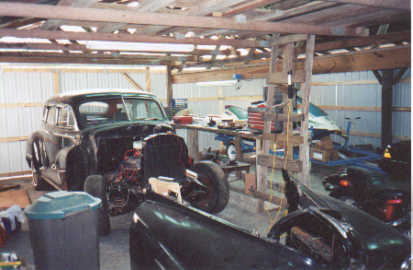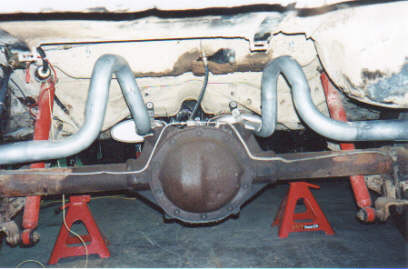 Put the fenders back on for hopefully the last time. Hood on, bumpers on, out for a real test drive and to the car wash. Here's a pic of the belt system before the fenders went on.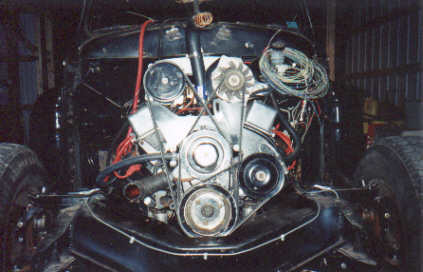 Now the (semi) finished product.