1948 Dodge Street Rod Project
(The newest stuff is on the last page.)


I bought the old Dodge cheap from a guy two miles off the paved road just outside of Nowhere, Arkansas. (Of course, I live 60 miles south of Nowhere, Arkansas.) I tried to sell it for a while, since it really was a nice all original car. Here it is in the local car show.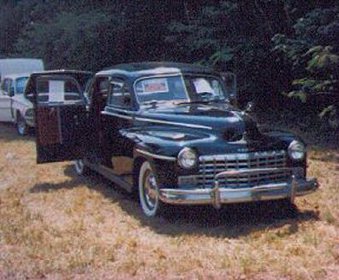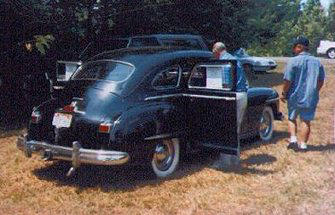 I hated to make the car anything but original, but with the weak little flathead motor, six volt system, and no air conditioning, it did need updating. I decided to go with the old standby Chevrolet 350.





Here's the car with the front fenders off of it, engine out and front suspension mostly gone. At this point, we already have the Monte Carlo rear end under it (a bolt-on) and we're getting ready to put in a Mustang II front suspension system. That way we get the rack-and-pinion power steering and modern suspension geometry.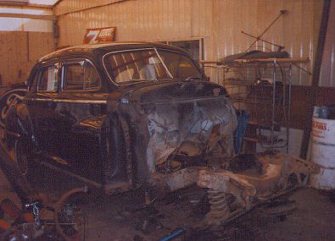 It seems like forever since we got to do any work on the car. All we've had here for three months is rain. Finally, we got the Mustang front end cut loose. Here the car is, sitting in the bonepile.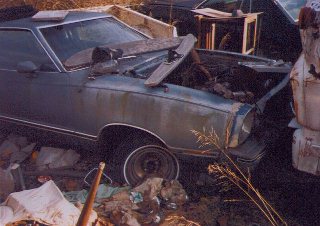 And here the front suspension unit is, cut out and sitting on the shop floor.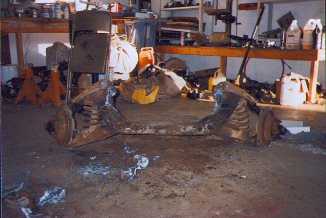 Next week, hopefully, we'll get the front frame of the Dodge shaved and reboxed to put the Mustang crossmember in. We are going to have to make a new crossmember for it, since the old Dodge is narrower than the Mustang, believe it or not. Here's a photo of the frame with all the spring and shock attachments shaved off and the frame reboxed.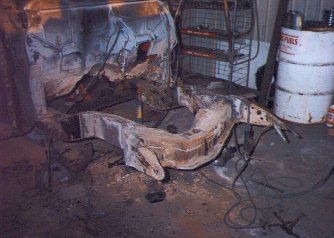 Then we'll make the spring towers and weld it all in. The next step is putting in the Monte Carlo engine, then all the little work of making the small parts fit. Here's the Monte Carlo engine after we cleaned it up a little.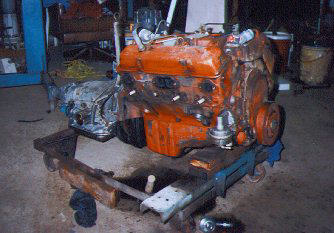 The plan is to paint the motor black along with the frame and everything else under the hood, highlighted with polished aluminum. We'll see.
Next....