The fuel tank is sitting in its cradle and the rear end, coil-overs, etc. are in place.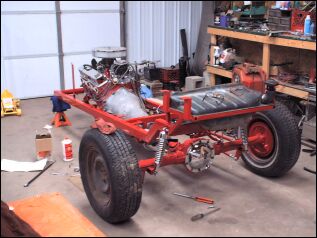 Here's the transmission cooler, fuel lines and battery cables all run. The cooler is closer to the driveshaft than I would like, but it never gets closer than about an inch away.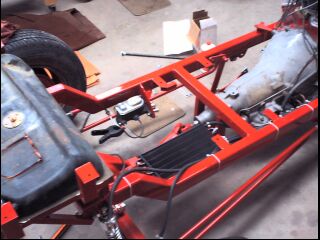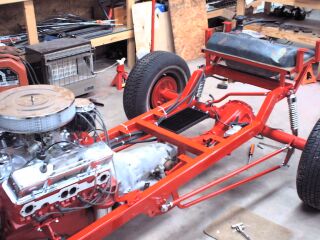 Got the body back from the paint shop. It's really red now.

We just sat it down on the frame, I have to dig the wires out from under it and string them where they belong, get the brake pedal done, etc. Got some work to do.

Fuel tank in, tail light in and wired, gas gauge wired, gauges in and tested, radiator in, axle hanging from the frame.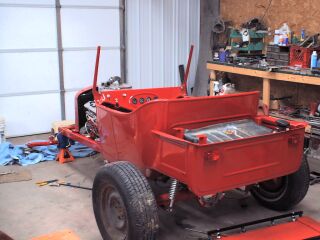 Getting ready to bleed the brakes. For some reason the bleeder valve, when the caliper is mounted, is not pointing up. There's not much chamber above it, but there is some. And yes, I tried flipping it, mounting on the other side, etc. So I put a piece of 2X4 and one of the pads in there to take up the slack and I'll bleed it here then mount it on the car.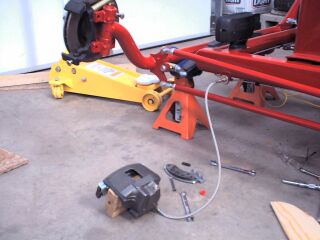 Here's a couple of shots of the steering arms I had to make. The tie rod brackets are REALLY close to the wheel, but they clear. They had to be out like that so the Ackerman would be right. The steering arm comes down like that so the drag link won't be up at some bad angle. It needs to run as close to the same angle as the radius rod so the car won't steer itself around when you hit a bump. It is all made out of 3/8" steel, bolted on the passenger side with two bolts and on the driver's side with three.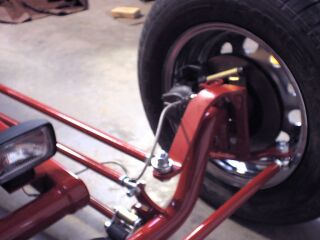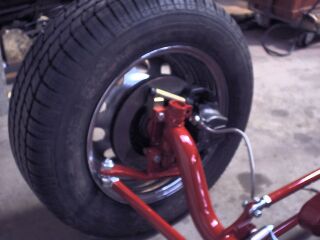 Steering column mounted, chrome wheels on, headers on, ready to send to the upholstery guy.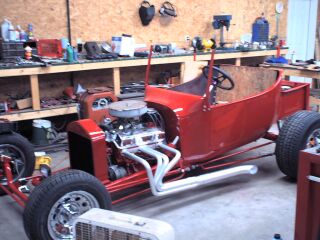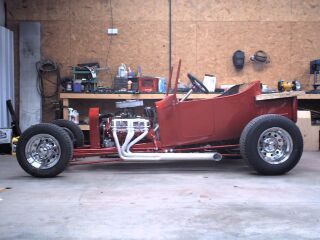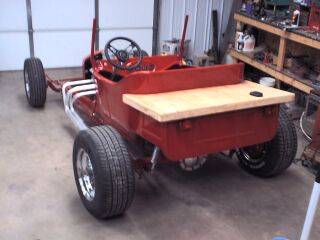 Got it back from the upholstery guy, looks fine. Go here to see the finished product.