1934 Ford Convertible Street Rod For Sale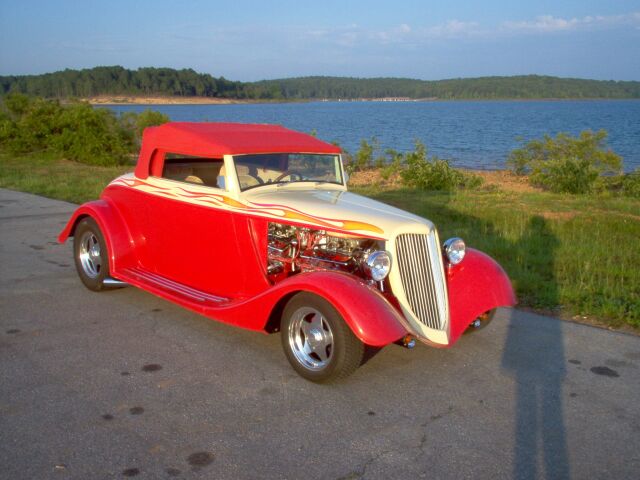 This is a Classic Motor Carriages car. That company became Street Beasts. This car was purchased from the factory about ten years ago, but sat, with all boxes unopened, car uncrated and untouched until I rescued it from its owner. The car was finished in May, 2005.

These first pics are the finished car before the running boards were finished.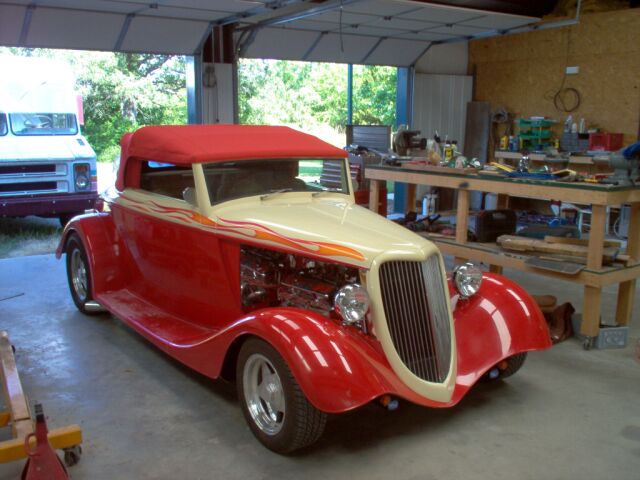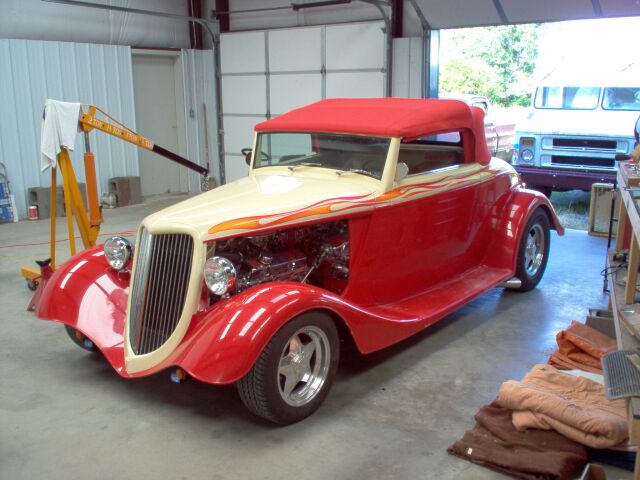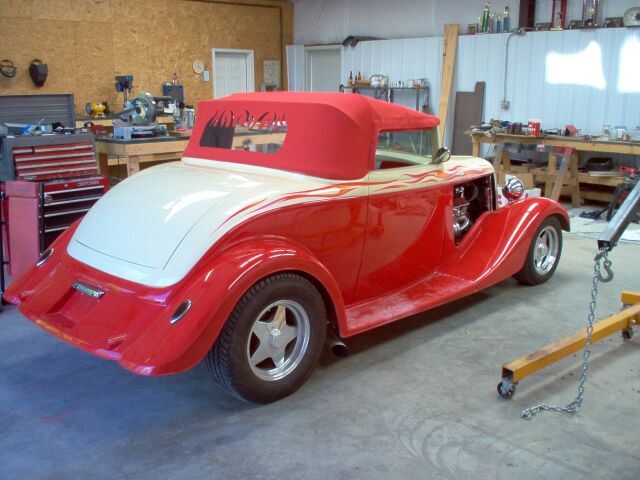 This pic shows the mirrored plexiglas firewall. The engine is a 1986 Chevy 305 with a polished intake and a 600 CFM Demon double-pumper. The hot gases leave the motor through a set of polished jet-coated headers. It also has a chrome alternator, polished aluminum water pump, chrome power steering pump, chrome pulleys, chrome oil pan, chrome oil filter cover, chrome distributor cap and hat with red plug wires, etc. The transmission is a 700R4 overdrive with a manual switch to power the locking torque converter. The front suspension is Mustang with a Thunderbird power steering rack. Under the front fenders are disc brakes and chrome springs and shocks.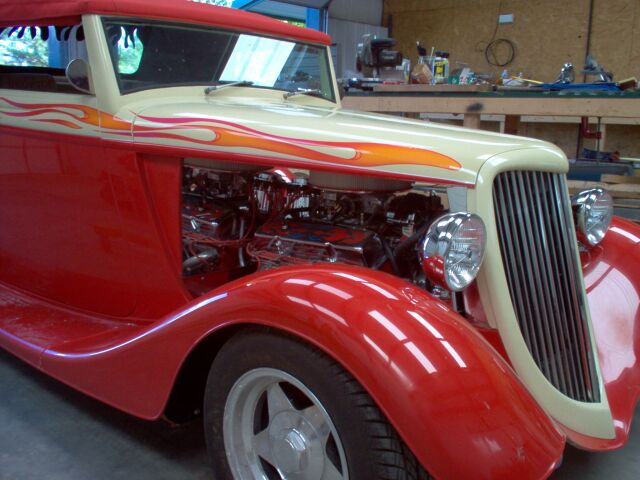 Here's a couple of pics taken during construction that better show the mirrored firewall.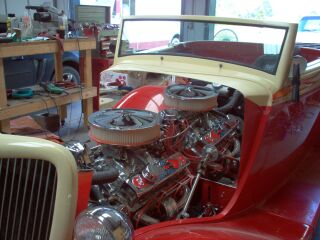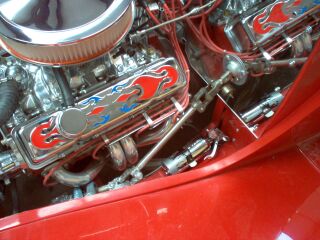 The seats are from a 1986 Mustang with new upholstery. The steering column is from a 1990 Camaro (minus the air bag of course). I should mention here that the paint on the steering column is nice and bright red. Somehow I didn't wipe the dust off when I took these pics. The door handles have been shaved with power remote openers. Power windows on both sides. The radio is a Secret Sound system from Custom Auto Sound. It has the control panel on the transmission tunnel just behind the Lokar shifter with the actual radio in the trunk.

The gauges are Stewart-Warner Classic with an electronic speedo and tach. The steering wheel is an older Grant wheel made with actual wood. The flame design on the doors is also in the trunk and the panel behind the seats.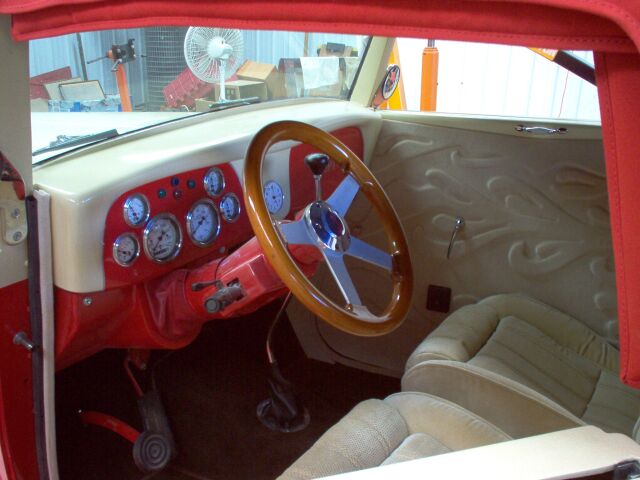 The trunk carries the flame design. The covered box on the left hides the solenoids for the door actuators and the box on the right hides the radio. The hidden antennae is on the cross-bar between the trunk lid hinges. The fuel tank cap is under a trap door inside the trunk. The filler neck is seperate from the trunk itself so as to never let any fumes inside the trunk. The trunk lid is held open with gas struts and operated by pulling a knob behind the driver's seat.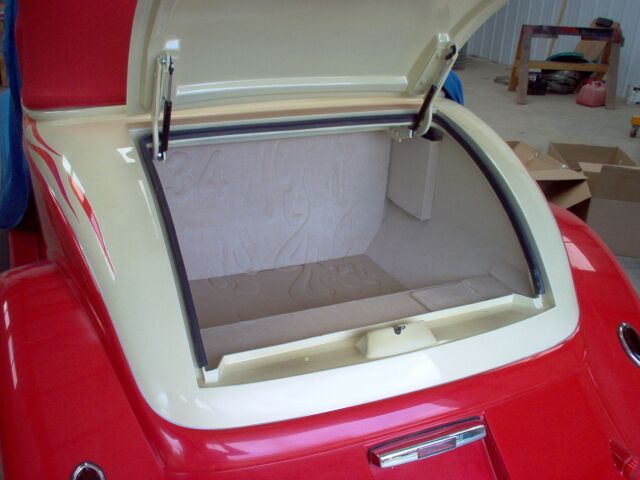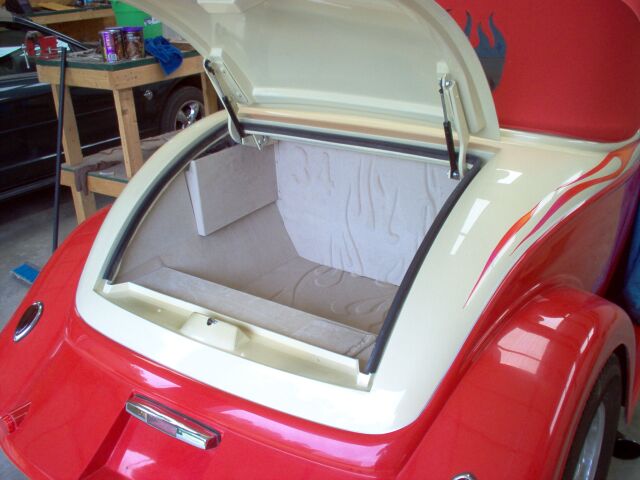 Here's a couple of pics showing the pearl in the red paint and the gold flecks in the beige.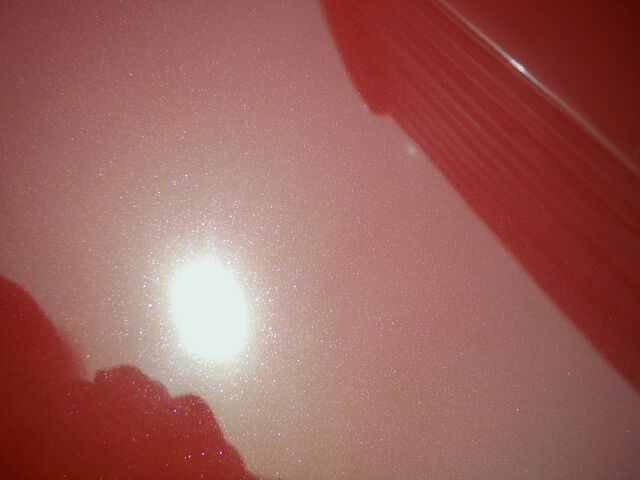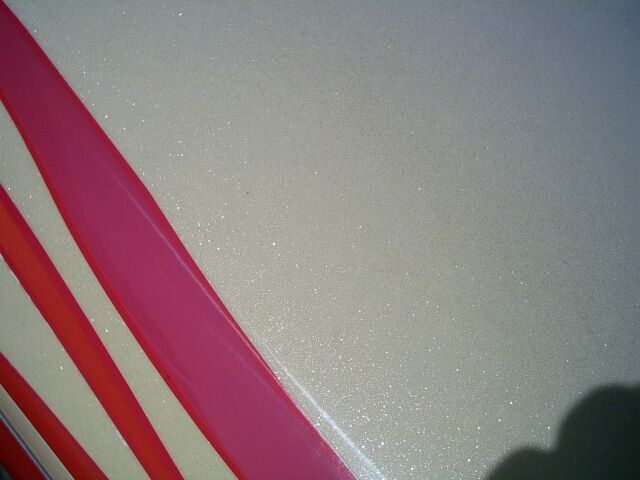 And a few more of the car in the driveway from a little different angle.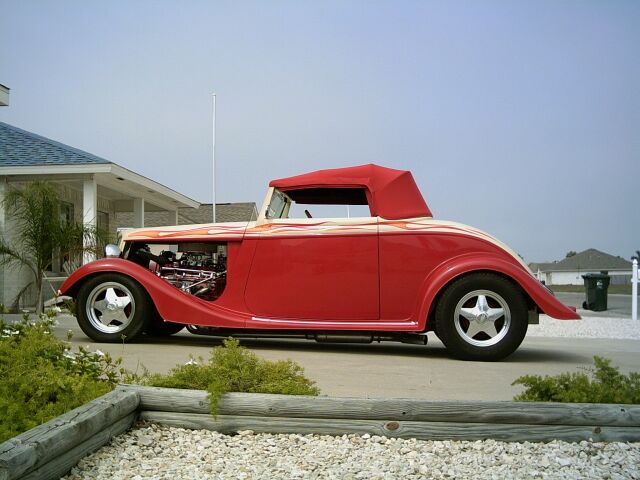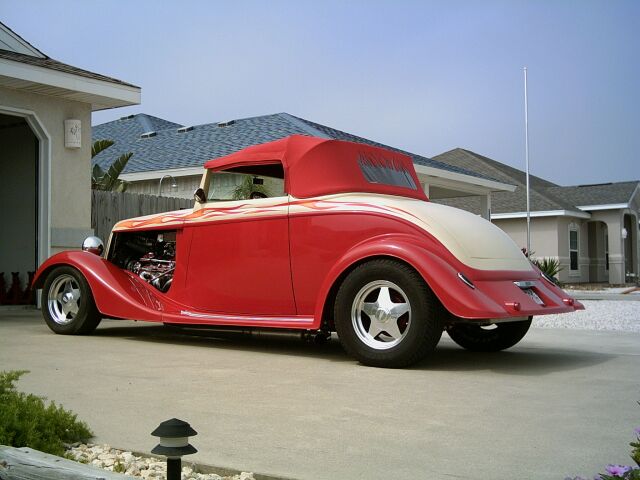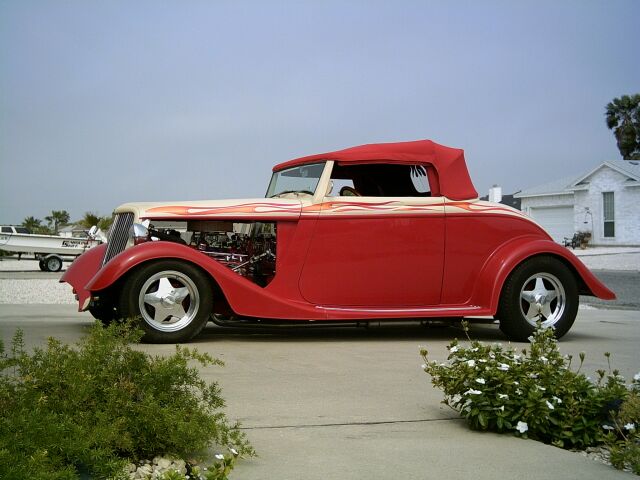 The rear end is from a 1986 Mustang with 3.73 gears. The wheels are American Eagle with all new tires. The frame is powder-coated red to match the paint on the car.

The car is fully titled as a 1934 Ford. It is for sale for $42,500.00

The car is in Corpus Christi, Texas. I can help you arrange shipping if necessary. For the whole story, go to:

Or Email me at: